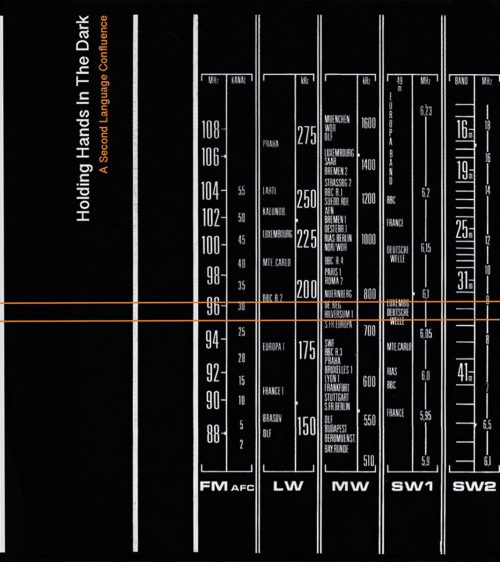 Holding Hands In The Dark
Second Language
This 2 CD compilation, a Second Language confluence, features exclusive tracks by Snowdrops, Matthew Shaw, The Leaf Library, David Rothon, Franck Alba, Mark Fry, Hilary Robinson, Angèle David-Guillou, Mücha, Glen Johnson, Oliver Cherer, Statues In Fog and Marc Namblard.
Born out of a frustration with Brexit's attempts to burn bridges with Europe, 'Holding Hands In The Dark' seeks to build more, specifically cultural, ones. The players on this compilation herald mainly from the UK and France and are generally known to each other, either by previous collaboration or simple mutual admiration. In the darkness of these difficult, perplexing, frustrating times, they reach out and defiantly join hands.
When we were children we used to sing 'rounds' on long car journeys through France and on down to Italy. 'Oh blow the wind southerly, southerly, southerly, blow the wind south o'er the sea'. My little instrumental on this compilation, 'Adiré', reminded me of those journeys – the sadness of leaving somewhere, mingled with the anticipation of arriving.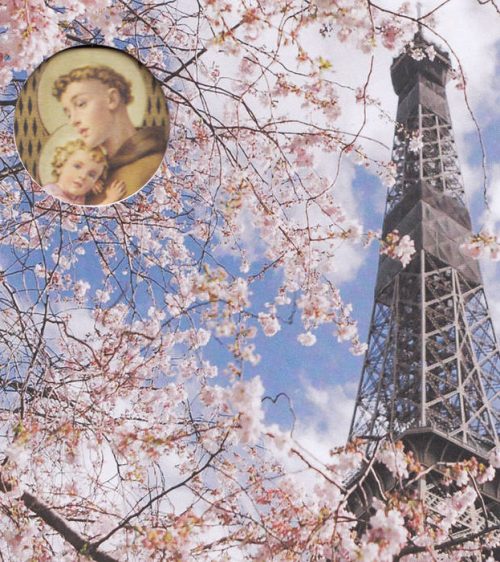 Avenue With Trees
Second Language
Introducing a very special Various Artists compilation, 'Avenue With Trees – A Second Language Cornucopia.' A paean to the eclecticism of label compilations on early 80's pioneering labels like Les Disques du Crépuscule and Factory Benelux, 'Avenue With Trees,' (named after an Eyeless In Gaza track) features exclusive work by the likes of Oliver Cherer (Gilroy Mere), David John Sheppard (Snow Palms), ex-Piano Magic Glen Johnson, Cédric Pin, Franck Alba and Paul Tornbohm, plus Mark Fry, Gareth Dickson, Pete Astor, Alter Later, Statues In Fog, Yumi Mashiki and Jean Lancaster. The compilation comes in a beautifully packaged in a 6 panel, die cut, concertina CD sleeve and is accompanied by a special 7 track bonus CDR of synchronous recordings, 'Secondaries.'

"The independent labels of the 1980s have always provided laudable inspiration for the ethos of Second Language… this truly beautiful compilation of original material from the imprint's big hitters evokes the era perfectly… An album of wistful sighs, of late-night regret and utterly transcendent musicianship." – Bob Fischer, Electronic Sound
'Avenue With Trees' has the peculiar effect of invoking a longing for summer's end, with some shorter days and fallen leaves to bolster its ambience. In all, this is undoubtedly one of 2020's most exquisite and rich cultural ventures." – Adrian Pannett, Concrete Islands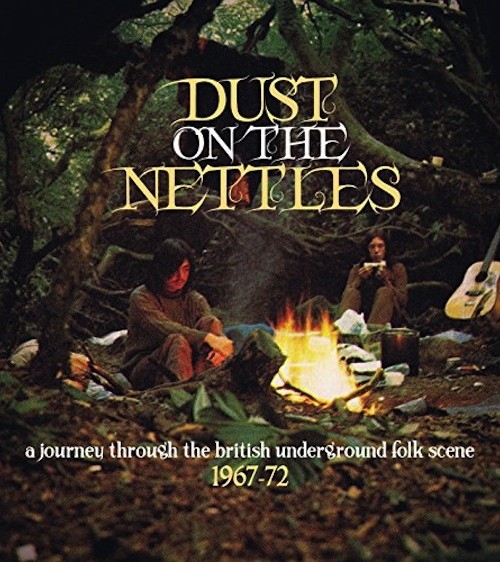 Dust On The Nettles
Cherry Red / Grapefruit, 2015
Disc One
The Pentangle – Let No Man Steal Your Thyme
Magnet – Willow's Song
Wight – Come All You Travellers
Spirogyra – Love Is A Funny Thing
Gary Farr – Images of Passing Clouds
Synanthesia – Peek Strangely And Worried Evening
Bob & Carole Pegg – Glass Of Water
Vashti Bunyan – Winter Is Blue
Comus – Winter Is A Coloured Bird
Chrissie Quayle – The Seagulls Scream
Clive Palmer – Stories Of Jesus
Steve Peregrin Took's Shagrat – Amanda
Bridget St. John – Curious Crystals Of Unusual Purity
Mark Fry – Roses For Columbus
Dando Shaft – Till The Morning Comes
Mary-Anne – Black Girl
Trees – The Garden Of Jane Delawney
Principal Edwards Magic Theatre – Weirdsong Of Breaking Through At Last
Oberon – Minas Tirith
Paper Bubble – Prisoners, Victims, Strangers, Friends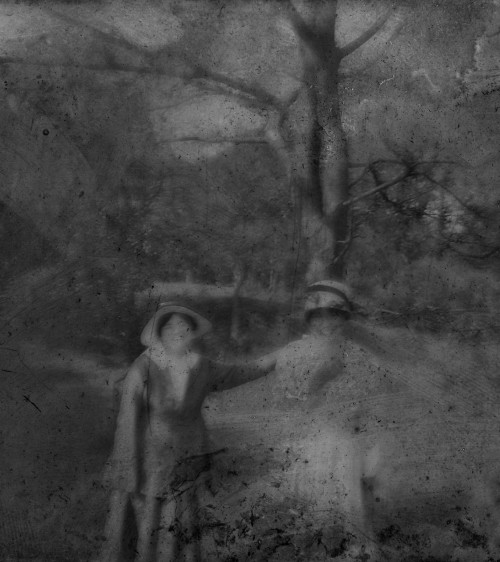 Silver Servants
Second Language, 2014
1. Murmurations
2. A Crow Will Remember Your Face
3. Still Small Voice
4. Jerusalem
5. Quam Quod Non Currant
6. Far Below
7. Murmurations (Reprise)
8. Spalling Farrows
9. Lopsided
10. The Moment Returns
11. File Under Bankrupt
12. Your Endless Woman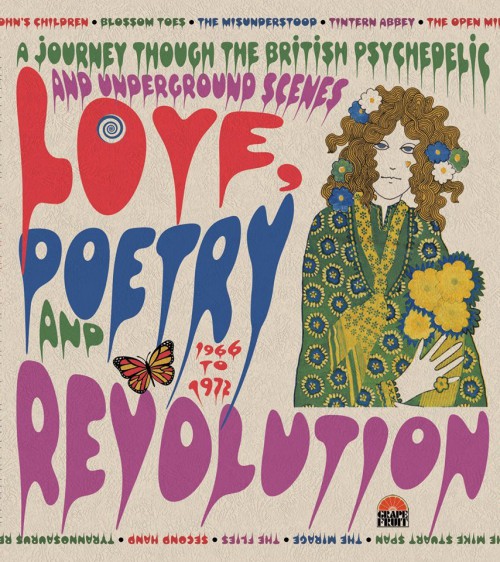 Love, Poetry and Revolution
Cherry Red / Grapefruit, 2013
Disc Three
1. The Open Mind – Magic Potion
2. Phil Cordell – Red Lady
3. Taiconderoga – Whitchi Tai To
4. Hawkwind Zoo – Hurry On Sundown
5. Principal Edwards Magic Theatre – Lament For The Earth
6. Czar – Ritual Fire Dance
7. The Fut – Have You Heard The Word
8. Paper Bubble – Fillin' A Gap
9. The Fox – Butterfly
10. Complex – Images Blue
11. Octopus – Rainchild
12. T2 – Careful Sam
13. Simon Finn – Laughing 'Til Tomorrow
14. Beau – Creation
15. Bill Nelson – End Of The Seasons
16. Mark Fry – The Witch
17. Kevin Coyne – Evil Island Home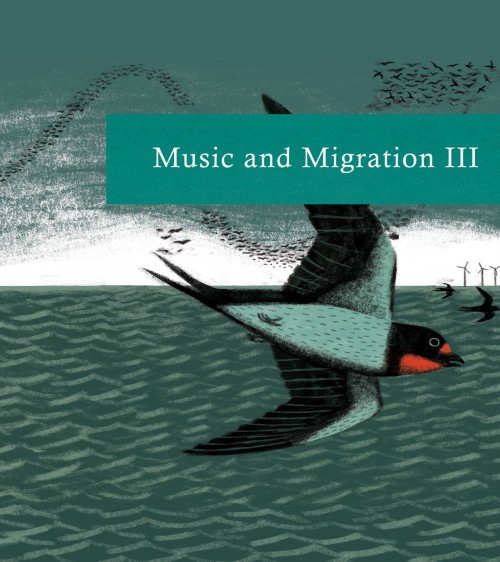 Music and Migration III
Second Language, 2013
1. ISAN – Kirkeskov
2. Colleen – Bird Score
3. Frances Castle – Flight Of The Swans
4. Oliver Cherer – Croham Hurst
5. Directorsound – Is That The Heron?
6. Mark Fry – In Times Like These
7. Memory Drawings – Wheatfields
8. Glen Johnson – L'abandon
9. Pascal Pinon – Fuglar
10. Sharron Kraus – Birds Of The Air
11. Gareth Dickson – Amber Sky
12. Lisa Knapp – Fine Horseman
13. Chris Watson – Namaqua Moves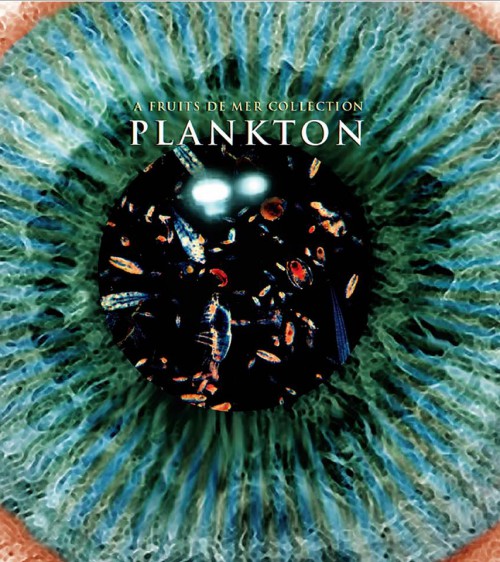 Plankton
Record Collector, 2013
1. Schizo Fun Addict – Theme One
2. Stay – Rainy Day, Mushroom Pillow
3. Vibravoid – Eye Shaking King
4. Alison O'Donnell – Day Is Done
5. Mark Fry with Nick Franglen – Dreaming with Alice
6. Us And Them – Home To Stay
7. Sidewalk Society – Red Chair, Fade Away
8. The Chemistry Set – Silver Birch
9. Vibravoid – Set The Controls For The Heart Of The Sun
10. Hausfrauen Experiment – Baby's On Fire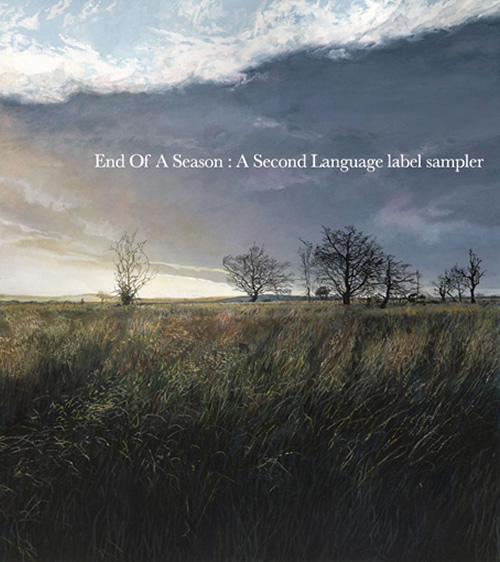 End Of A Season
Second Language, 2012
1. The Cloisters – The Lock Keeper
2. Richard Moult – Song For Mourie
3. Memory Drawings – Heptonstall
4. Mark Fry/The A Lords – Even The Sky Goes Blue
5. Directorsound – I Hunt Alone
6. Tyneham House – The Ragged Cat
7. Piano Magic – St-Martin-In-The-Fields
8. Klima – Kourouma
9. Glen Johnson – Kurelek
10. The Home Current – Fyrfalden
11. Áine O'Dwyer – A Prayer Before Bedtime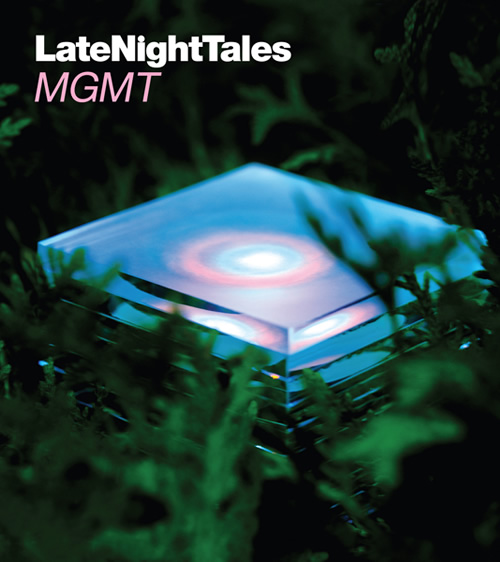 Late Night Tales: MGMT
Late Night Tales, 2011
1. Disco Inferno – Can't See Through It
2. The Great Society – Love You Girl
3. Suicide – Cheree
4. Television Personalities – Stop and Smell the Roses
5. The Velvet Underground – Ocean
6. Felt – Red Indians
7. Julian Cope – Laughing Boy
8. Durutti Column – For Belgium Friends
9. Charlie Feathers – Mound of Clay
10. Mark Fry – Song For Wilde
11. MGMT – All We Ever Wanted Was Everything (Bauhaus Cover)
12. Cheval Sombre – Troubled Mind
13. Dave Bixby – Drug Song
14. The Jacobites – Hearts Are Like Flowers
15. The Chills – Pink Frost
16. Martin Rev – Sparks
17. The Wake – Melancholy Man
18. Spacemen 3 – Lord Can You Hear Me?
19. Pauline Anna Strom – Morning Splendor
20. Paul Morley – Lost for Words Part 2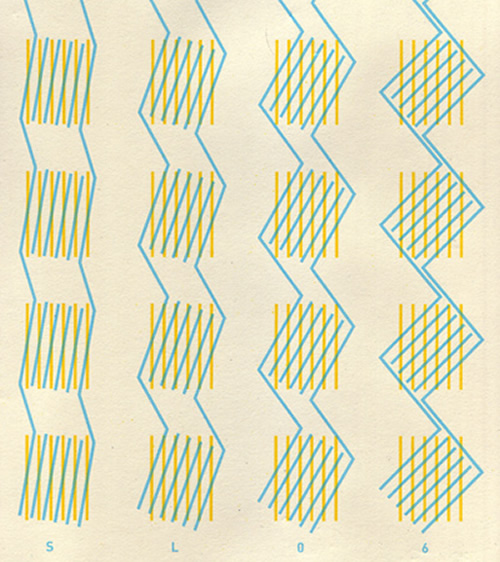 Vertical Integration
Second Language, 2010
1. Tula  – Tula
2. Pete Astor – Tree of Birds
3. Gareth Dickson – Once Upon
4. 30km Inland – Washing Days
5. Dirk Markham – Spirit Level (edit) 
6. Ólöf Arnalds – Ég umvef hjarta mitt
7. Tunng – Run Turn Follow
8. Klima – Come Back To Me
9. Women & Children – Burn and Glo
10. Mark Fry & The A Lords – I Lived In Trees
11. Anna Rose Carter – Unstitch
12. Robin Saville – Wesley's Fingers
13. Autumn Grieve – The Calling
14. The Home Current – You Can Go Now
15. Junkboy – Set Sail At Sun Set
16. Our Broken Garden – Share
17. Isnaj Dui – A Secret Peace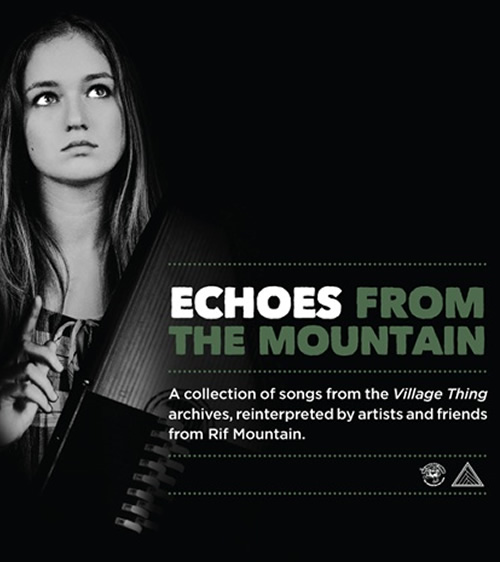 Echoes From The Mountain
Rif Mountain, 2010
1. Starless And Bible Black  – Silver Lady
2. The Owl Service – Time is Ripe
3. Pamela Wyn Shannon –  Simplicity
4. Stephen Cracknell – When I Cease to Care
5. Jane Weaver – Death 
6. Jason Steel – Rosie
7. Wizz Jones – Sometimes in This Life
8. Lemez Duo ft. Ben Mandelson – The Island
9. The Straw Bear Band – Song of Wandering Aengus
10. Adam Leonard – See How the Time is Flying
11. The A Lords & Mark Fry- It's Not My Place to Fail
12. Katie Rose – Grey Lady Morning
13. Corncrow – The Road to Marazion
14. Pamela Wyn Shannon – Love Song
15. Steve Tilston – Night Ferry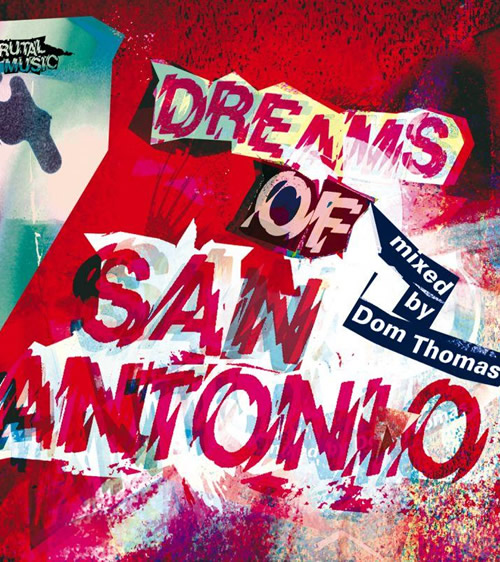 Dreams Of San Antonio
Brutal Music, 2011
1. The Sunshine Society – Flameout
2. Dom Thomas – Sierra Madre Treasure Hunters
3. The Jeronimo Brothers – The Immigrant
4. Madeline Chartrand – Ani Kuni
5. Dom Thomas – Dreams Of San Antonio
6. Bad Heir – Duelling Drums
7. Dom Thomas – San Tano 
8. Mark Fry – Mandolin Man – Solar Loop Edit
9. Nora Dean – Angie La La
10. Dom Thomas – On The Waterfront 
11. Dom Thomas – Batacuda Cup
12. Dom Thomas – Scarlet Skies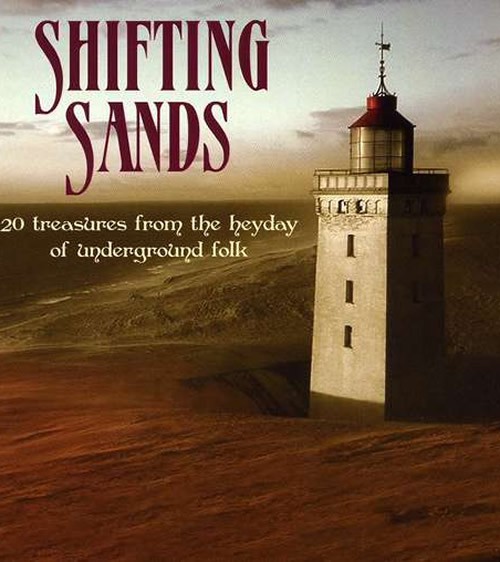 Shifting Sands
Sunbeam Records, 2010
1. Fresh Maggots – Dole Song
2. Rick Hayward – Can't See Any Sign
3. Lazy Farmer – Turtle Dove
4. Moonkyte – Way Out Hermit
5. Mary-Anne – The Water Is Wide
6. COB – Summer's Night
7. Jaki Whitren – A Little Bit Extra, Please
8. Roger Rodier – My Spirit's Calling
9. Loudest Whisper – Cold Winds Blow
10. Gordon Jackson – My Ship, My Star
11. Mark Fry – Song For Wilde
12. Meic Stevens – Dim Ond Heddiw ddoe ac Fory
13. G.F. Fitz-Gerald – Country Mouse
14. Oriental Sunshine – Visions
15. Justine – See Saw
16. Wizz Jones – When I Cease To Care
17. Dawnwind – Canticle
18. Gary Farr – I See You
19. Lily & Maria – Morning Glory Morning
20. Synanthesia – Shifting Sands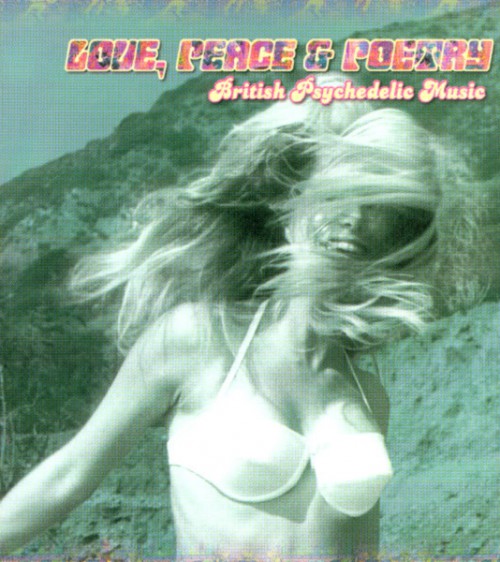 Love, Peace & Poetry
Q.D.K. Media, 2001
1. Red Dirt – Memories
2. Magazine Woman – Gary Walker and The Rain
3. Andwella's Dream – Felix
4. Dark – Maypole
5. Dogfeet – Now I Know
6. Tony, Caro and John – There Are No Greater Heroes
7. Pussy – Comets
8. Candida Pax – Reach Out
9. Mark Fry – Mandolin Man
10. Motherlight – On A Meadow-Lea
11. Lightyears Away (Astral Navigations) – Yesterday
12. Bodkin – Three Days After Death, Pt. 1
13. Forever Amber – The Dreamer Flies Back
14. Oliver – Telephone
15. Parameter – Harvington Hall