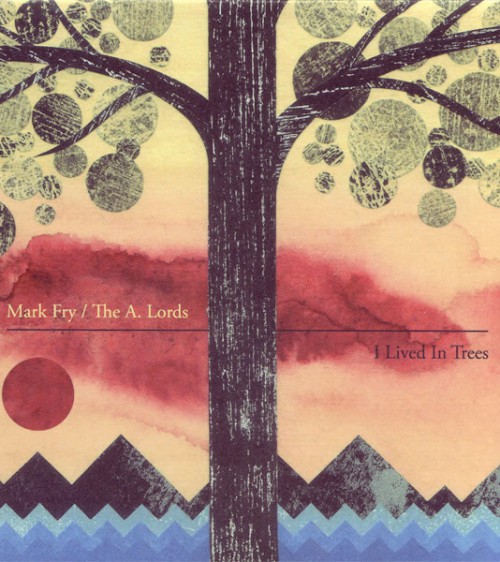 I Lived in Trees
Second Language, 2011
My third album, released on the wonderful Second Language label in September 2011, was a collaboration with The A. Lords, aka Nicholas Palmer and Michael Tanner.
Nick and Michael first approached me in 2010 and sent me some instrumental pieces that were beautifully constructed, unusually arranged and aching of a lost, pastoral England. It was like being given these mysterious abstract landscapes into which I walked and hoped to return with a narrative. I was trying to somehow find the song within the song, and create a lyric and a vocal line that would reinforce and give the music an added sense of place. We sent files to and fro for almost six months before we actually met.
Almost everything on "I Lived In Trees" was recorded in our homes or outside in the fields. I often find that sound has become so cleaned up that something has gone from it. That's why I got excited about this album because the music sounds organic and has real texture.
Aine O'Dwyer, who is a beautiful harpist, singer and artist, was involved from very early on, and we were joined by Jess Sweetman on flute and Ellen Mary McGee, a fine singer and songwriter who took time out to play percussion with us. Steve Bentley-Klein, who also played on my earlier album "Shooting The Moon", added some subtle strings, and finally Nick Franglen worked his special magic to make sure we got the sound we wanted.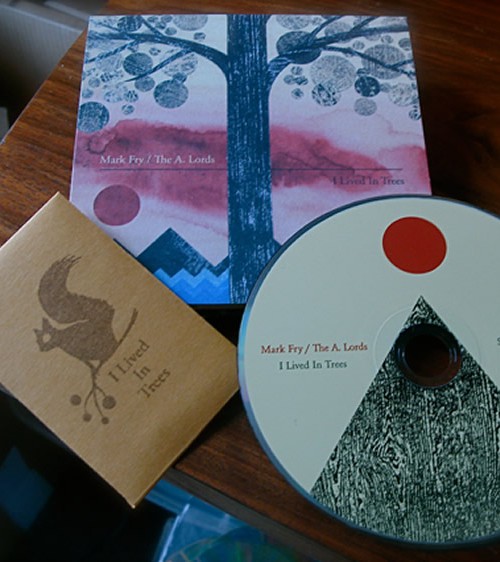 Reviews
Lost boy of psych-folk ages gloriously  "His 1972 debut Dreaming With Alice has long been a fetish object for acid-folk obsessives, with its irresistible combination of prim Lewis Carrollisms and strung-out weirdness, but 40 years on, and now a respected painter, Mark Fry is finding a musical life beyond that isolated teenage indiscretion. With hand-knitted backing from Dorset folkniks The A. Lords, I Lived In Trees is his third and best LP. The twittering, autumnal backdrop on the title track and 'Chalky Down' whispers skylarking-era XTC, while Fry's chocolate-cream voice echoes Nick Drake and Kevin Ayers. A callow youth no more, the boy within continues to wonder." — Uncut, Jim Wirth, September 2011
"Another musician who has taken inspiration from life's mystery is Mark Fry. He recorded his debut album in 1972 and has just got round to making its follow-up with The A. Lords… and it sounds just like Dreaming With Alice. This is no bad thing." — The Times, Will Hodgkinson, October 2011
"In 1971, after making Dreaming With Alice, a quintessential psych-folk album, Mark Fry disappeared off the musical radar for four decades. I Lived In Trees, recorded with Dorset pastoralists The A. Lords, is a hedgerow a-bustle with harp and mandolin, haunted by birdsong. Details abound: 'Chalky Down' has a sudden aching minor chord dip under the chorus; 'La Lune' is a French fragment." — Financial Times, David Honigmann, October 2011
"Fry could have represented a footnote to the weird and wonderful British acid-folk story in the late Sixties and early Seventies. His music career went on hold after 1972's cult classic Dreaming With Alice (an original fetched £2,327 at auction recently) and he became a renowned painter. But he returned in 2008 with Shooting The Moon and now this beguiling collaboration with experimental musicians The A. Lords. It summons the spirit of those hazy, patchouli-scented days but sits happily with the work of new folkies such as Vetiver and Espers." — The Sun, October 2011
"Fry is… now hooking up with Dorset like-minds The A. Lords to make what's being described as the logical follow-up to his 1972 debut. Quite strangely, the album sounds like it could have been recorded straight after that LP, wafting in like a distant transmission from another time when gentle acoustic guitar ballads came draped in flutes, harps and gossamer strings: the perfect soft-focus backdrop for titles such as 'Even The Sky Goes Blue' and 'Behold The Nereids Under The Green Sea'. Like the best of this genre, it's all bathed in its own supernatural magic." — Record Collector, Kris Needs, November 2011
"A essere viva e presente, ma soltanto trasformata, è invece la classe di un artista davvero singolare, che nella collaborazione con musicisti solitamente impegnati su altri fronti ha trovato una dimensione nuova, credibile e ben distante dalla mera ripetizione di un se stesso ormai perso nella notte dei tempi. Merito di chi ha permesso l'incontro e reso possibile la pubblicazione del disco: Alice è rimasta nel suo Paese delle meraviglie, mentre Mark Fry è stato fortunatamente scovato dal suo nascondiglio tra gli alberi." — Ondarock, (Italy), October 2011