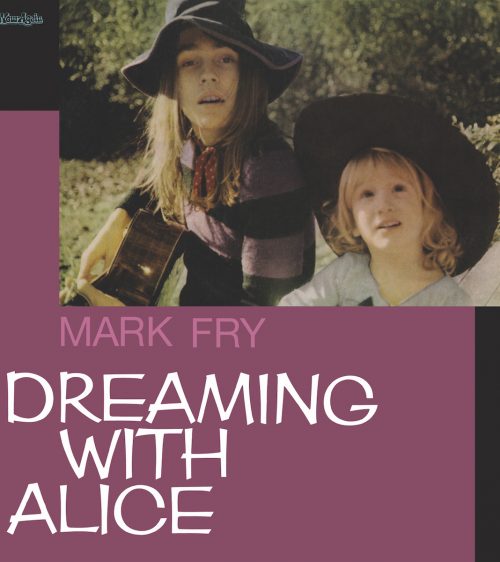 Dreaming With Alice
Now-Again Records, 2020
After leaving school in 1970 I set off for Italy to study painting at the Accademia di Belle Arti in Florence. Italy in the 1970s was a turbulent place. I was lucky to find the art school open more than two or three days a week. Either it was on strike or closed for the celebration of a saint's day. It was very chaotic. I began to feel restless and as though I was missing out on Italy. I left the Accademia after one year.
Laura Papi, a family friend, encouraged me to do more with the songs I had been writing in Florence and to think about putting together an album. One day she gave me a present of a little Grundig tape recorder. I couldn't double-track, but it inspired me to keep writing songs.
In the autumn of 1971 we went down to Rome where Laura, together with her friend the actor Franco Leo, had managed to arrange an audition for me at RCA.  I remember sitting on the edge of a big office chair in front of some very austere-looking men in suits, playing my songs.
When I had finished they asked me to go outside and wait. I thought, "Oh well, that's that." A few minutes later, the door opened and I was presented with a ten-year contract with IT Dischi, a subsidiary of RCA. It felt like a life sentence, but I signed on the dotted line.
IT Dischi put me into some small studios in Rome to start laying down the songs. Every week for a month I set off from Florence on my 250cc Ducati motorbike. I had a kind of Easy Rider chromed hoop welded on to the back in order to strap my guitar on for the journey. But when I arrived at the studios after many hours on the autostrada, the guitar was almost impossible to tune and my hands were terribly cramped.
The sound engineer was an angling enthusiast and he seemed more interested in fly-fishing than in recording. I remember watching him through the control room window. When the red light came on and I started to play, he would put his legs up on the mixing desk and disappear behind a fishing manual. I became despondent; it wasn't working.
But IT Dischi came to my rescue and introduced me to some Scottish musicians who, like me, had signed a chunk of their lives away. They had made a little home studio in their basement flat in Rome, and it was there, with their help, that Dreaming With Alice eventually came to life on two 4-track Revox tape recorders over the space of a couple of weeks.
The studio wasn't very well soundproofed so we couldn't use drums, but I think in the end that was a good thing. I remember hearing Song For Wilde being rewound and thinking that backwards it sounded like a mysterious Celtic reel. I thought IT Dischi would never agree to including it, but they did. I don't think I realised at the time that allowing artists a lot of freedom was part of their ethos.
Rome was a very exciting place to be at that time. Fellini's recent film Satyricon had caused a sensation. Pasolini was at Cinecitta filming Decameron. Laura knew quite a few directors and actors and we often went down to the studios. Franco was appearing in Carmelo Bene's extraordinary film Salome which included a scene of him carrying a naked girl up a flight of stairs towards a screen made of 50,000 plastic roses. Italians had – and still have – a great love of the surreal. An unknown English boy with very long hair singing songs about witches eating watermelon seemed to appeal to them. Dario Fo, who used to come round to Laura's house with a whole crowd of artists, actors and writers, asked me to join his theatre company, an offer I didn't take up which I've regretted ever since.
After the recording IT Dischi introduced me to the great Lucio Dalla, who at the time was also signed to RCA. He was going on tour in Italy that summer and IT Dischi thought that adding me into the tour would be a good way of promoting my album. Lucio and I had an immediate rapport and I joined his band. He was already a tremendous star, a highly regarded and influential songwriter. He became a kind of guru for me.
We travelled far down into Calabria and around Sicily, playing at huge outdoor festivals. The further south we played the more we could feel the political fervour. Lucio was a popular hero in the south. We would play a little warm-up number before he came on. When he finally appeared the crowd roared. He would punch the air, and tens of thousands reciprocated the gesture with cries of "Lucio! Lucio!". In the middle of these highly charged sets, Lucio would introduce me as his "amico inglese" and I would play Lute and Flute, which IT Dischi thought of as "the single".
Shortly after the tour of Italy I went back to England. I thought if I was going to take the music seriously I would have to try it there.
Dreaming With Alice was released in Italy after I had left the country. I received a few copies of the album in the post and I remember wishing that the photo on the cover hadn't been so severely cropped. In the original I'm playing my guitar alongside my little brother Wilde who is strumming away on his miniature toy guitar.
I wasn't aware of any reviews. I think there was just one pressing of Alice. Many years later I was amazed to find, via the internet, that it had been bootlegged (at least twice) and had become something of a cult record. In 2006, music writer and record sleuth Richard Morton Jack tracked me down and set the wheels in motion with another release. Some years later, record label owner and collector Egon Alapatt got in touch and I was delighted when in 2020 his LA-based Now-Again Records released an all-analogue vinyl transfer from the original master tapes.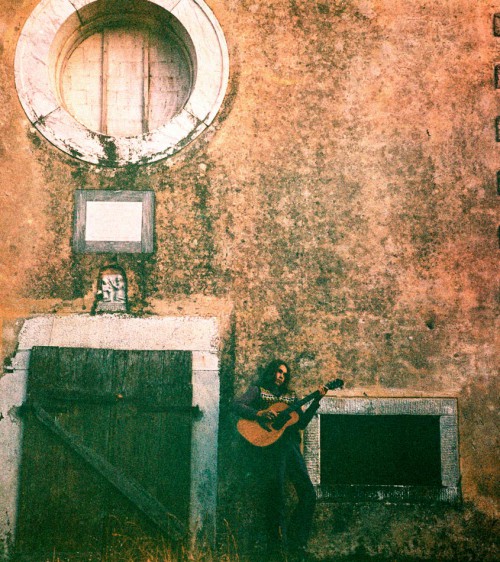 Reviews
Now-Again Reserve: "9/10: A masterpiece of psychedelic whimsy… Lovingly packaged with extra material from highly listenable mid-70s sessions." — Uncut, August 2021
"The lithe, spindrift guitar work of Dreaming With Alice achieves a sense of quintessence." — The Wire, July 2007
"A washed-out, extremely fuzzy mixing job is the album's most distinctive quality—the frayed sonic leaves each of Fry's honeyed melodies sounding as timeless and well-worn as a cut from a scratchy old blues 78. " — Popmatters.com, January 2007
"This legendary folk/psych masterpiece finally gets an official airing on CD, complete with a couple of contemporary bonus tracks and lovingly detailed liner notes from Fry himself… with two bonus tracks recorded in 1975. So, ultimately, we have the year's finest reissue and an essential purchase for fans of acid/folk and pop/psych." — Terrascope, December 2006
"A wonderfully surreal breath of acid-folk opiate care of a teenage Mark Fry… personally it dropped my jaw on first listen… if you are into bedroom singer/songwriters, acid-folk or lo-fi psychedelia this is an absolute essential addition to your collection." — Audiversity, January 2007
"This is one of those albums that feels like a secret you can't wait to share. …Mark's songs are really their own special mystic psychedelic branch of the folk rock tree… all enveloped in a spectral haze of otherworldliness." — Dream Magazine, 2004
"This psych-folk gem has been compared to Donovan and Incredible String Band, and it's certainly as good as any of those two… this one has maybe stood the test of time better." — Psychedelic Music, 2003
"I must say that if this was my only record I would be very proud indeed… Flutes, acoustic guitars and bongos combine to create a swirling, peaceful vibe. Lots of reverb, strangeness and charm." — Spin Magazine, 2002
"For me, far too many psych-folk reissues fail to live up to their promise or my expectations – and often something seems to be lacking that I can't quite put my finger on. Fortunately, Mark Fry's Dreaming with Alice more than lives up to its promise… Witches, lutes, Egyptian fireflies, sitars, mandolin men, backwards guitars, and pyramid prostitutes ensure Mark Fry a place in the psych-folk pantheon." — Othermusic.com, 2001